A work related trip to Turkey recently got me to make my maiden voyage on Turkish Airlines. The narrow bodied 737-800, with a passenger capacity of anywhere between 151 to 189 passengers depending on its configuration, was packed to the rafters and every single seat was occupied for the six hour flight to Istanbul. The flight left bang on time at 10:25 a.m. filled with a motley group of passengers. Somewhere in the middle sat a group of female Kenyan traders, with the ubiquitous well worn scarf wrapped around seasoned shoulders. At the back of the plane was a group of young Kenyan males, quite obviously going for a sports related trip given the loud, raucous laughter filled with competitive promise that occasionally punctuated the air.
As a card-carrying member of the Kenya Airways (KQ) fan club, I couldn't help but compare the service on the two airlines. KQ beats them on food hands down despite a Turkish-steward-dressed-in-chef-uniform perambulating about and offering more promise than fact during the flight. However, I have to admit that individual passenger screens providing at least 40 choices in each of the three genres of drama, comedy and action made for an unbeatable in-flight entertainment service.

Image from http://ichef.bbci.co.uk
The Turkish Government owns 49.12% of Turkish Airlines while the rest is free floating on the Istanbul Stock Exchange. With about 277 planes ranging from Airbus, Boeing and Embraer, the profit-making airline is the fourth largest carrier in the world flying to 218 international destinations. It has faced challenges like most airlines and posted losses in 1987 and 1988 due to high payments on its new Airbus A310s. It also suffered in the global aviation crisis following the Gulf War in the nineties and didn't break even until 1994. The airline also underwent some stress during the SARS outbreak that forced it to suspend flights to several Asian destinations. However in the last three years 2012, 2013 and 2014 the airline turned over $8.2 bn, $9.8 bn and $11 bn respectively yielding a net profit after tax of $657m, $357m and $845m during the same period. It enjoys relatively good profits and very healthy and positive cash flows.
But it's not difficult to see why. Turkish Airlines is a key partner in the Turkish government's tourism initiatives, which started when the new government in 1983 chose the airline to be its primary ambassador and committed to maintaining a modern fleet with high security. Data from the Turkish government shows an average growth rate of above 5% in tourism per year with 36.84 million visitors in 2014. Turkey happens to be the sixth most popular tourist destination in the United Nations World Tourism Organization's ranking. It relies on its cultural and historical heritage along with sea tourism. It has also been helped recently by the depreciation of its local currency – the lira- against the US dollar and Euro which has therefore made it an attractive destination for visitors from those regions.
We landed in Istanbul in the early evening and as I was travelling to Izmir, the third largest city in Turkey, I had to go through immigration. Long lines awaited me with about 22 counters reserved for non-Turks and another 8 reserved for Turkish passport holders. I must admit I let out a quiet snort of derision as I gleefully stood in the same tortuous line with British, American and EU passport holders. No privileged access here. We were all in it to win it.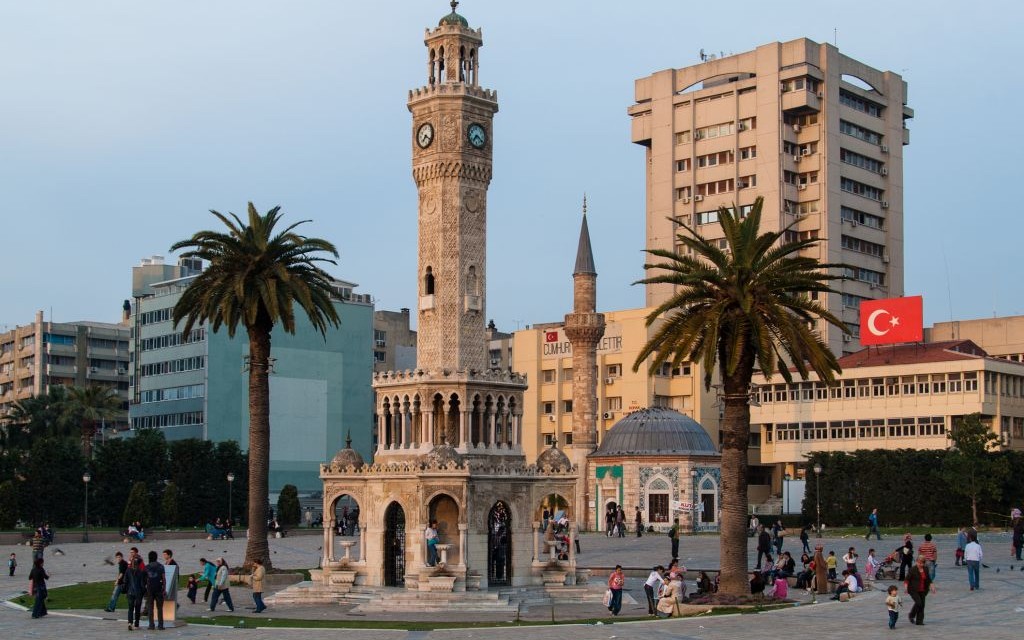 Image from http://www.trazeetravel.com
Istanbul's Ataturk airport is actually not visitor friendly and it's quite a schlep to the domestic terminal with poor signage and mostly non-English speaking airport staff. I barely had time to grab something to eat before I heard the last boarding call for my flight to Izmir. As it was a domestic flight I was expecting it to be an Embraer or another Boeing 737 at least. However the transfer bus pulled up in front of a Boeing 777 -300 ER with a passenger capacity of 349. The reason for the use of the wide-bodied equipment quickly became apparent. The 42-minute flight was packed to gunwales to Izmir, a town 331 kilometres south west of Istanbul that sits along the coastline of the Aegean sea. Izmir has a rich history with at least 4000 years of urban civilization and is proximate to the ancient city of Ephesus- remember John the apostle's letter to the Ephesians? Most of the passengers were tourists, many who were of oriental extraction.
There is newness to Izmir, certainly not the crowded old city feeling that I recall from my Istanbul trip 15 years ago. The streets are wide, 3 lane highways on a each side and my cab driver drove like he was possessed with and conceived by Lucifer's spawn. Having had a seamless check in process into the hotel and feeling slightly peckish, I took the lift to the 8th floor sky bar and was immediately taken by the wide vista of twinkling lights on the hillsides of Izmir. Immediately below me was a city square, it was 10 pm on a Saturday night and there were many people walking, rollerblading and cycling on a sea fronting promenade, the centre of which is the Republic Square. It looked safe, appealing and attractive as it was brightly lit and secure. On the other side of the square, was a police car parked seemingly carelessly on the road, insouciance oozing out of every screw holding its authority together. Its red and blue lights flashed brilliantly to mark its territory. Republic Square was safe for its users.


Image from http://www.trazeetravel.com
The Turkish government uses the national airline as a fundamental tool of tourism, which is a key economic driver. Security is present and very visible to residents and visitors of Turkish cities. It is apparent even to the untrained eye that the government plays a key and supportive role in the way business is done in the country. More on Turkish government support of Turkish business next week.
Carol.musyoka@gmail.com
Twitter: @carolmusyoka